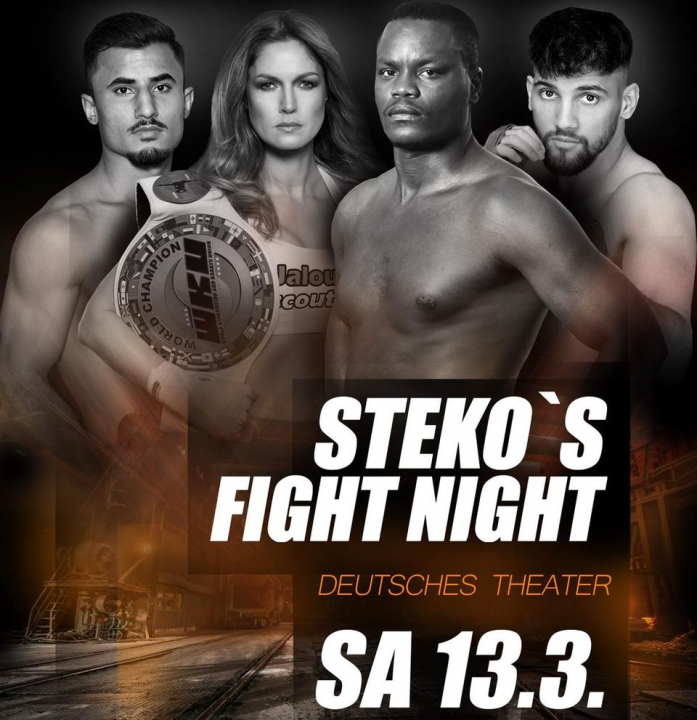 19.02.2021 // Tobias Gerold
// STEKOS FIGHT NIGHT: DIETZ ERSETZT ILUNGA
// Lang trifft auf Michl, Berg vs. Glaser II
Das Jahr 2021 ist in vollem Gange und die Corona-Pandemie hält den Sport weiterhin voll auf Trab. Veranstaltungen sind weiterhin Mangelware - bis jetzt. Das Münchner Kampfsportzentrum Steko stellt am 13. März den ersten Event der Promotion in 2021 auf die Beine. Und das mit einer Fight Card, die Spannung verspricht.

WKU-WM: Sljivar bekommt neuen Gegner
Im Super-Schwergewicht war die Paarung zwischen Glory-Veteran Danyo Ilunga sowie Enver Sljivar geplant. Da sich Ilunga verletzt hat, wurde nun nach einem Ersatz gesucht - und diesen fand man in Form des amt. WFMC-Weltmeister Daniel Dietz (in seinem Kampf bei FairFC 9) aus Emmelshausen. Mit 22 Kämpfen und ohne Niederlage weist er eine beeindruckende Bilanz auf, die ganz großen Namen in der europäischen Kampfsport-Szene findet man daran bisher allerdings nicht. Mit Enver Sljivar wird sich das am 13. März aber ändern. Der 35-jährige Bosnier ist in Deutschland nicht nur durch seine beiden Kämpfer gegen Michael Smolik den Kampfsport-Fans ein Begriff. Er wird auch als Favorit in den Kampf gehen, da er neben dem Mehr an bestrittenen Kämpfen auch die wesentlich bekannteren Namen vor den Fäusten hatte. Dietz wird das herzlich egal sein, denn nichts weniger als den WM-Titel hat der Schützling von Konstantin Schulz eingeplant und wenn ihm das gelingen sollte, dann steht auch bereits der nächste Gegner fest - und das wird dann kein Geringerer als Danyo Ilunga. Spannende Wochen, die hier vor Daniel Dietz liegen.

WKU-WM: Lang gegen Europameisterin Michl
Auch für Marie Lang wird es wieder ernst. Die 34-jährige WKU-Weltmeisterin muss ihren Titel im Limit bis 65kg wieder verteidigen und wird dabei auf IKBF-Weltmeisterin Michaela Michl (in ihrem Titelkampf von Welcome to the East IV) aus dem Erfurter La Familia Fight Club treffen. Den WKU-Titel hatte sich Lang am 19. Juni 2019 mit einem einstimmigen Punktsieg über Athina Evmorfiadi aus Griechenland gesichert und wird ihn nun zum ersten Mal gegen Michl verteidigen. Es wird für beide Damen, wie auch für viele Andere, der überhaupt erste Kampf nach einer langen Pause sein und der Grund dafür muss ja nicht mehr erwähnt werden. Marie Lang wird als Favoritin hier in den Kampf gehen, unterschätzen sollte sie Michl aber keinesfalls. Dafür hat sich die Wahl-Erfurterin in den vergangenen Jahren zu gut entwickelt.

WKU-EM: Berg vs. Glaser Teil 2
Im Kampf um die Europameisterschaft der Damen werden sich in München erneut Lokalmatadorin Mandy Berg und die Nürtingerin Charly Glaser (hier in ihrem Kampf von der Nürtinger Fight Night 2020) gegenüberstehen. Im ersten Duell der beiden Ladies ging der Kampf über die volle Distanz von fünf Runden. Hier waren sich die Punktrichter alles andere als einig. Zwei werteten den Kampf als unentschieden, einer sah Charly Glaser in Front. Der EM-Titel blieb somit bei Mandy Berg. Es war aber ein Urteil, was für beide Kämpferinnen nicht zufriedenstellend war und gerade weil die Wertungen so knapp waren, ist ein neuerliches Aufeinandertreffen der beiden unausweichlich. Ob die Punktrichter diesmal zu einem einstimmigen Sieg-Urteil kommen, oder werden sie vielleicht sogar nicht benötigt?

Vier weitere Duelle werden zudem auf dem Programm stehen. So will WKU-Europameister und Steko-Eigengewächs Diar Hessen die nächste Stufe seiner Karriereleiter erklimmen und sich im Kampf um die Weltmeisterschaft gegen K-1 Japan-Contender Jordan Valdinocci aus Italien behaupten. Ex-Profi Boxer Leon Gavanas (in seinem Kampf auf der Leo`s Box-Nacht VI) trifft im Kampf um die Deutsche Meisterschaft im Super-Schwergewicht auf Fatayo Yancuba treffen, der selbst zu früheren Zeiten als Boxer unterwegs gewesen ist. Yancuba gilt im Kickboxen als aufstrebendes Talent und wird es Gavanas alles andere als einfach machen.

2019 holte sich Steko-Schützling Oscar Plasene den nationalen Titel der WKU. In München wird er in einem Superfight auf den Mannheimer Rosario Falsone treffen. Wer glaubt, dies sei ein einseitiges Duell, der irrt sich. Falsone gewann nicht nur das erste "All Or Nothing" K-1 Tournament in Erfurt (hier das packende Halbfinale), er sicherte sich auch bereits den ProAM-WM Titel der WKU. Einzig Profi-Boxer Flamur Mehmeti wartet auf der Fight Card aktuell noch auf seinen Gegner. Der amt. WBC-Junioren-Weltmeister wird zu einem Kampf über 6 Runden in den Ring steigen.

Insgesamt sieben Kämpfe wird die erste Steko`s Fight Night im Jahr 2021 umfassen. Starten wird die Veranstaltung aus dem Deutschen Theater in München um 19.00 Uhr und kann auf dem Yotube-Channel der Stekos für € 4,99 verfolgt werden.

Stekos Fight Night
13. März 2021
Deutsches Theater, München

WKU-Weltmeisterschaft / K-1
Enver Sljivar vs. Daniel Dietz

WKU-Weltmeisterschaft / Kickboxen
Marie Lang (C) vs. Michaela Michl

WKU-Weltmeisterschaft / K-1
Diar Hessen vs. Jordan Valdinocci

WKU-Europameisterschaft / Kickboxen
Mandy Berg vs. Charly Glaser

WKU-Deutsche Meisterschaft / K-1
Leon Gavanas vs. Fatayo Yancuba

K-1
Rosario Falsone vs. Oscar Plasene

Boxen
Flamur Mehmeti vs. Tba.
Teilen
zurück zur News Übersicht