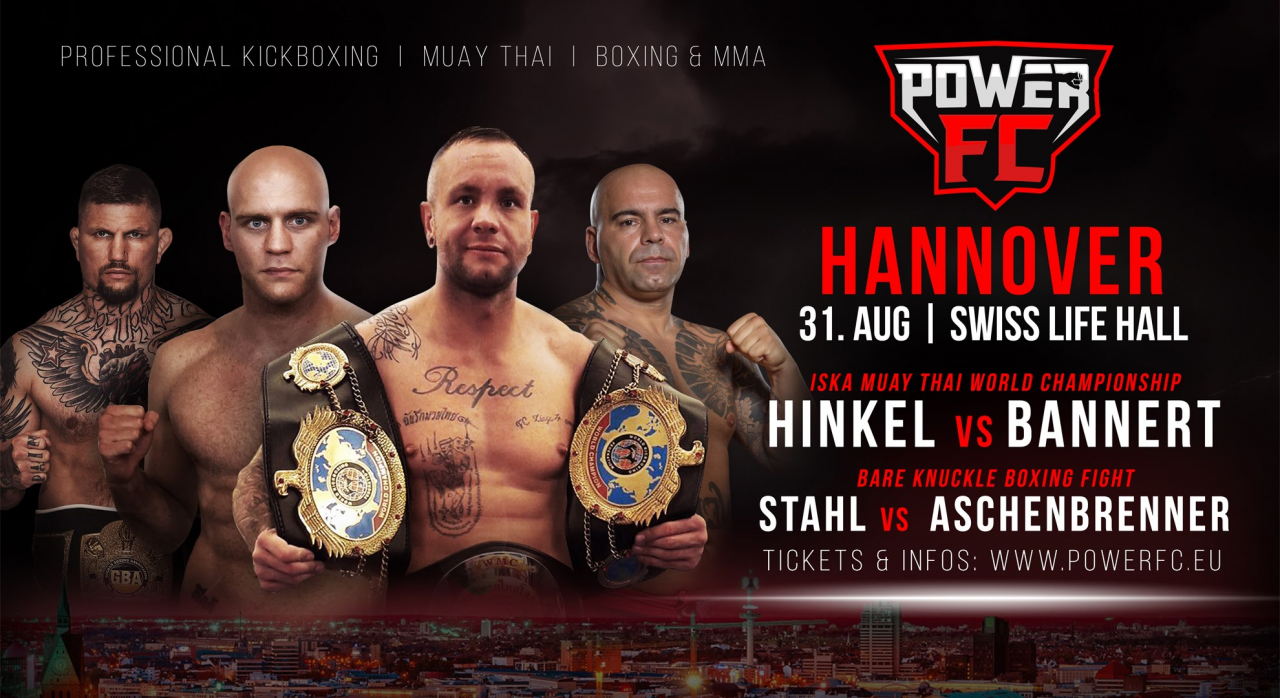 12.11.2019
// POWER FC I: KRÖGER, HINKEL, MALOCAJ & ASCHENBRENNER IN ACTION
// Mega-Debüt am 31. August in Hannover
Am 31. August öffnen sich die Pforten der Swiss Life Hall von Hannover zum Debüt von Power FC, einer neuen Veranstaltungsreihe, bei der die Fans der Standkämpfer ebenso auf die Kosten kommen werden wie die Freunde des MMA. Denn das Programm der Debüt-Veranstaltung von Power FC - es ist gewaltig.

Hinkel & Kröger vor Titelkämpfen
Im Hauptkampf des Abends geht es um den WM-Titel im Muay Thai der ISKA. Hier werden sich der Heidelberger Simon Hinkel (in seinem Kampf bei King of Absolute Figting) und Henry Bannert aus Österreich im Ring begegnen. Zwei sehr erfahrene Muay Thai-Kämpfer also - und das merkt man vor allem bei Hinkel. Der Heidelberger konnte zwar auch schon im K-1 einige Erfolge erzielen, Muay Thai aber ist genau die Stilrichtung, die ihm liegt und die auch zu ihm passt. Wie auch bei seinem Gegenüber Henry Bannert. Dieser konnte sich bei Vendetta XVI gegen Branislav Grckarac behaupten und gewann dabei den ISKA-WM Titel im Muay Thai - und genau um diesen Titel wurde Bannert von Hinkel herausgefordert. Was bei den Schwergewichten dieser eine Schlag ist, der alles ändert, ist hier eben jene Muay Thai-typische Aktion. Man darf gespannt sein.

Ein heißer Tanz auf der Rasierklinge - das verspricht der Kampf um die Europameisterschaft der ISKA zwischen Florian Kröger (in seinem Kampf bei Get in the Ring 18) aus Trittau und dem Schweizer Kevin Buser (in seinem Kampf auf der Volkmarsen Fight Night). Kröger ist dafür bekannt, dass er meist eine Runde braucht, um auf Betriebstemperatur zu kommen, oft zum Leidwesen seines Trainers Lutz Burmester. Wenn die aber erst einmal erreicht ist, dann wird es schwierig, den Trittauer zu stoppen. Genügend Selbstbewusstsein wird sein Gegner Kevin Buser in jedem Fall haben. Der Schweizer sicherte sich erst vor wenigen Wochen den WM-Titel nach einer Schlacht über fünf Runden gegen Ramon Kübler und wird garantiert nicht zum Verlieren in die Hauptstadt von Niedersachsen reisen.

Aschenbrenner & Stahl gehen Old School
Ganz "Old School" werden sich "Karl Stahl" Niko Lohmann (in seinem Kampf gegen Hassan Kurnaz) und Marco Aschenbrenner (in seinem Kampf auf der One Man Series )im Ring gegenüberstehen. "Old School" deshalb, weil beide in einem sogenannten Bare Knuckle-Boxkampf aufeinandertreffen werden. Dies bedeutet, dass ohne Handschuhe, aber mit Tape geboxt wird; so, wie es auch schon beim Vorbild Bare Knuckle Fighting Championship in den USA der Fall ist. Beide Kämpfer sind zwei alte Hasen in ihrem Fach und kämpfen nicht etwa, weil sie es müssen, sondern weil sie es einfach wollen. Dabei sind Stahl und Aschenbrenner immer für einen nervenaufreibenden Kampf gut.

Heiße K-1 Duelle erwartet
Auch das Rahmenprogramm, wobei die Titulierung hier komplett untertrieben ist, lässt mit hochkarätigen Duellen aufhorchen. So wird Kristian Malocaj (in seinem Kampf gegen Kevin Burmester), seines Zeichens Deutscher Meister der IKBF, auf Lokalmatador Okan Celikdal (in seinem Kampf gegen Jenosan Black Sea) treffen. Wem es draußen noch nicht heiß genug ist, dem wird es bei dieser Ansetzung garantiert so werden. Beide Akteure sind dafür bekannt, schon die kleinste Unachtsamkeit beim Gegner böse zu bestrafen und scheuen sich zudem vor keiner offenen Konfrontation. Die Zuschauer werden hier garantiert auf ihre Kosten kommen.

Ebenso wie bei der Ladies-Paarung zwischen IFMA-Titelträgerin Viktorija Molcanova (in ihrem Kampf bei Clash of Gladiators) und der Trittauerin Pia Peters. Peters zeigte sich zuletzt in Malta in bester Verfassung und konnte sich dank einer starken Leistung in der Höhle der Löwin den Europatitel der WKN sichern. Mit Molcanova hat sie eines der vielversprechendsten Talente vor der Nase, gewann diese doch erst im vergangenen Jahr die Goldmedaille auf der IFMA-WM in Thailand und setzte damit ein Ausrufezeichen in ihrer noch jungen Karriere. Mit Lutz Burmester (Peters) und Rene Müller (Molcanova) stehen auch zwei Trainer-Füchse in der Ecke ihrer Schützlinge. Keine Frage, die Damen werden den Herren in nichts nachstehen.

Doch das ist noch lange nicht alles. Die Paarung zwischen Furkan Gencer (in seinem Kampf gegen Timo Stendel) und Andrei Surenkov (in seinem zweiten Kampf gegen Marco Bigos) verspricht ebenso viel Spannung wie das Duell zwischen Timo Stendel und Patryk Hebel oder das Aufeinandertreffen zwischen Erik Marhula und Jura Felde. Die Freunde des gepflegten Standkampfes werden hier garantiert mehrmals ihre Freude haben.

Auf die MMA-Kämpfe werden wir in einem gesonderten Artikel noch detailliert eingehen. Karten für das Debüt von Power FC können unter www.reservix.de geordert werden. Weiterführende Infos zur Veranstaltung gibt es auf deren Webseite unter www.powerfc.eu.

Power FC I
31. August 2019
Swiss Life Hall, Hannover

Einlass: 16.00 Uhr
Beginn : 17.00 Uhr

ISKA-Weltmeisterschaft / Muay Thai
Hennry Banert (C) vs. Simon Hinkel

ISKA-Europameisterschaft / K-1
Florian Kröger vs. Kevin Buser

Bare Nuckle / Boxen
Marco Aschenbrenner vs. "Karl Stahl" Niko Lohmann

K-1
Kristian Malocaj vs. Okan Celikdal
Viktorija Molcanova vs. Pia Peters
Charlie Feiker vs. Hamid Rezaiee
Timo Stendel vs. Patryk Hebel
Eicke Schwarz vs. Cem Aygun
Jura Felde vs. Erik Marhula
Andrej Surenkov vs. Furkan Gencer
Batuhan Aksan vs. Sherzod Rudzinov
Acelya Akpinar vs. Manolya Möhring

Muay Thai
Adam Mazco vs. Finn Masurat

+ Kämpfe im MMA & Boxen
Teilen
zurück zur News Übersicht