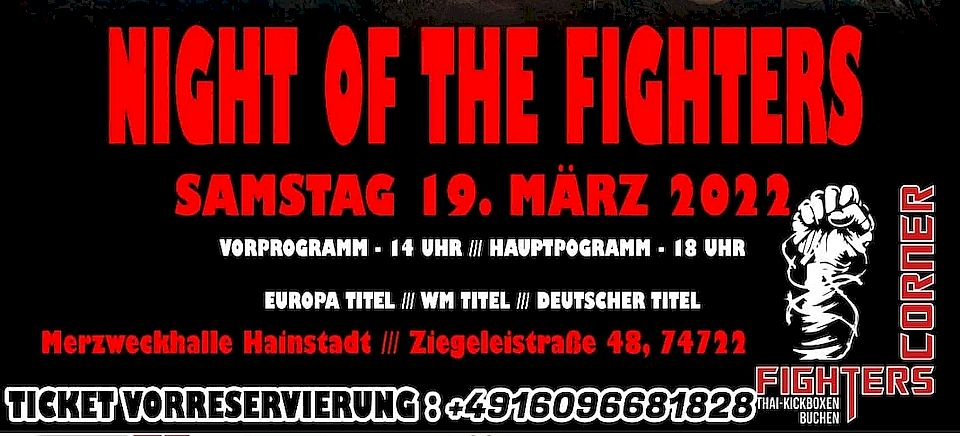 15.03.2022 // Tobias Gerold
// NIGHT OF THE FIGHTERS: 5 TITELKÄMPFE IN BUCHEN
// Jason Klein, Marvin Grimm & Co. geben Vollgas
Am kommenden Samstag dürfen sich endlich die Tore der Mehrzweckhalle von Buchen-Hainstadt wieder öffnen. Es ist Zeit für die Night of the Fighters, bei welcher gleich fünf Titelkämpfe der WKU auf dem Spiel stehen werden.

Das ganze Hick-Hack mit "Event? Ja!" und "Event? Nein!" - Promoter Eugen Lorenz hätte wohl spätestens hier Haarausfall bekommen. Ein Glück, dass der Chef des Fighters Corner in Buchen bereits seit längerer Zeit die Telly Savallas-Gedächtnis-Frisur besitzt. Umso glücklicher dürfte dieser jetzt sein, das sein Event nun endlich an den Start wird gehen können.

WKU-WM: Grimm fordert Mechanikov
Lokalmatador Marvin Grimm war zunächst nicht für diesen WM-Titelkampf vorgesehen. Da aber der eigentliche Gegner aufgrund von einer Verletzung ausfällt, musste man im Hause Grimm nicht lange überlegen und will, wenngleich auch nur mit kurzer Vorbereitung, sich den Traum vom WM-Gürtel erfüllen. Sein Gegner wird Dimitry Mechanikov aus Fulda sein, in der Szene kein Unbekannter. Es ist kaum vorstellbar, dass bei diesen beiden Hünen der Kampf über die volle Distanz von fünf Runden gehen wird. Ein Knockout liegt hier quasi in der Luft und gerade bei den schweren Jungs weiss man, dass eine einzige Aktion entscheidend sein kann.

WKU-EM: Klein weiter auf dem Vormarsch?
Keine Frage, der Buchener Jason Klein ist eines der heißesten Eisen, welches Veranstalter Eugen Lorenz in den vergangenen Jahren geschmiedet hat. Dies stellte sein Schützling bei It`s Fight Time im Dezember eindrucksvoll unter Beweis und sicherte sich den ISKA-Titel. Einmal Blut geleckt will man natürlich mehr - und das in der Form des EM-Titels der WKU. Doch aufgepasst, mit dem Saarländer Jason Sakraschinsky hat er einen mehr als nur ebenbürtigen Gegner. Auch wenn dieser die Ringschlacht gegen Leon Schrock im vergangenen Jahr nach Punkten abgegeben hat, so zeigte er mit einer äußerst beherzten Leistung, dass man ihn besser niemals abschreiben sollte.

WKU-DM: neue Titelträger gesucht
In drei unterschiedlichen Gewichtsklassen werden an diesem Abend zudem die nationalen Titelträger der WKU gesucht. Nick Beschnar wird es dabei mit Tarik Elfarra zu tun bekommen, während der Wiesbadener Cameron Brunke auf Power-House Raua Omer treffen wird. Den arrivierten Kämpfern aber heimlich die Show stehlen, das könnte im nationalen Titelkampf der Junioren der Fall sein, wenn mit Dennis Schneider ein weiterer Lokalmatador in den Ring steigen und dabei auf Kerim Yerligül aus dem Energy Gym treffen wird. Beide Youngsters hatten in der Vergangenheit bereits mehrfach bei Events auf sich aufmerksam machen können und mit teils sehr starken Leistungen überzeugt. Mehr Motivation, als das es um einen Titel geht, werden beide wohl nicht brauchen.

Natürlich bilden die Titelkämpfe des Kernstück der Veranstaltung. Doch die Night of the Fighters hat noch weitaus mehr zu bieten. Nach einem versöhnlichen Jahresabschluss greift "The Angel" Aylina Engel wieder an und will an die erfolgreiche Leistung von It`s Fight Time anknüpfen. Ihre Gegnerin wird ISKA-Championesse Anna McSweeney aus München sein - und das wird kein Spaziergang werden. Engel wird dies herzlich egal sein, denn das neuste Mitglied des MK47 Fight Club hat sich in der Vergangenheit noch nie die Gegnerinnen ausgesucht - siehe zum Beispiel der Kampf gegen Enfusion-Titelträgerin Sarel de Jong. In einem weiteren Frauenkampf werden sich zudem noch Nicole Bauer (Darmstadt) und Gabriella Rozor (Heidelberg) gegenüberstehen, während es bei den Herren Merlin Woods mit Bartek Mierzwar zu tun bekommen wird. Man sieht also, die Main-Card hat einiges zu bieten.

Bereits um 14 Uhr wird an diesem Tag der Gong zur ersten Runde ertönen. Dann darf sich der Nachwuchs seine ersten Sporen im Ring verdienen und mal erfahren wie es ist, nicht nur auf Haus-Galas zu kämpfen. fight24 wird selbstverständlich mit von der Partie sein und das Hauptprogramm ab 18 Uhr übertragen - zum FightPass gelangt ihr HIER.

Night of the Fighters
19.03.2022
Mehrzweckhalle, Buchen-Hainstadt

Einlass: 13.00 Uhr
Beginn : 14.00 Uhr (Vorprogramm) / 18.00 Uhr (Hauptprogramm)

WKU-Weltmeisterschaft / K-1
Marvin Grimm vs. Dimitry Mechanikov

WKU-Europameisterschaft / K-1
Jason Klein vs. Jason Sakraschinsky

WKU-Deutsche Meisterschaft / K-1
Nick Beschner vs. Tarik Elfarra

WKU-Deutsche Meisterschaft / K-1
Raua Omer vs. Cameron Brunke

WKU-Deutsche Junioren Meisterschaft / K-1
Denis Schneider vs. Kerim Yerligül

K-1
Kai Werther vs. Jamea Atif
Merlin Woods vs. Bartek Mierzwa
Aylina Engel vs. Ana McSweeney
Nicole Bauer vs. Gabriella Rozor
Igor Schneider vs. Jannik Kämpf
Dominic Christoph vs. Rico Fuhrmann
Markus Duscherer vs. Atakan Versay
Giorgi Niederer vs. Lauan Mahmud
Eduard Kurdayan vs. Musa
Artoni Kondeshi vs. Aziz
Daniel Jaksic vs. Batuhan Demircan
Nick Aman vs. elias Czogalla
Edik Mahmudyan vs. Gerad Nzila
Yunus Gür vs. Ahmet Aksu

MMA
Alin Constantin vs. Daniel Baziak
Rusev Georgi Stoyanov vs. Kurkaev Viskhan

Boxen
Roman Hild vs. Yancuba Fatayo
Teilen
zurück zur News Übersicht