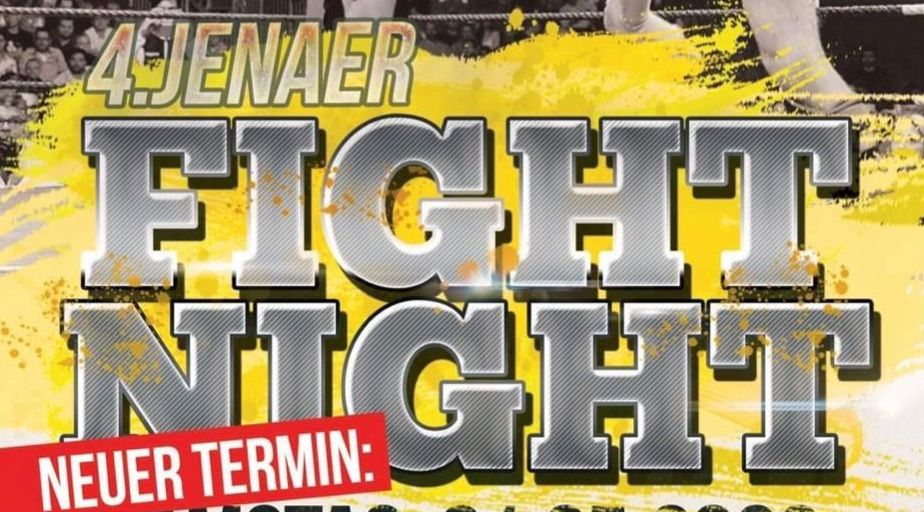 19.05.2022 // Tobias Gerold
// JENAER FIGHT NIGHT: SCHROCK & FERKO IM EINSATZ
// Jung bei Comeback gegen Varkentin
Am kommenden Samstag steigt die fünfte Ausgabe der Jenaer Fight Night - endlich. Veranstalter Marcel Kalisch hatte in den vergangenen Monaten mehr als nur schwere Zeiten zu durchleben.

Marcel Kalisch war in den vergangenen zwei Jahren wahrlich nicht zu beneiden. Erst eine Absage wegen Corona und dann ereilte ihn auch noch das Schicksal, dass er schlicht und ergreifend zu viele Karten an den Mann und die Frau brachte und deshalb auch unter Auflagen nicht veranstalten durfte. Immerhin, das Warten hat nun ein Ende und am Samstag öffnen sich die Tore der Sparkassen-Arena in Jena endlich wieder. Zwei nationale Titelkämpf der WKU und 12 weitere Superfights im K-1 und Boxen stehen dabei auf dem Programm.

WKU-DM: Schrock will nächsten Titel
Bei der Night of the Predators lieferte sich Leon Schrock einen Thriller mit Marcel Martinez (der Thriller in voller Länge), den der Saalfelder einstimmig nach Punkten für sich entscheiden konnte und sich nun zweifacher Deutscher Meister der WKU & ISKA nennen darf. Und schon geht es schnurstracks weiter zum nächsten Titelkampf - und das ausgerechnet gegen Lokalmatador Edris Sahadati (in seinem Kampf bei Coming Stars V). Klar ist: Schrock wird mit breiter Brust in Jena den Ring besteigen, war seine Leistung im letzten Kampf doch extrem stark zu bewerten. Allerdings betritt er hier auch die Höhle des Löwen und wer schon einmal in Jena war, der weiß, wie frenetisch das lokale Publikum seine Kämpfer unterstützt. Auch wenn Edris Sahadati nicht als Favorit in diesen Kampf gehen wird, so ist es vielleicht genau dieser Umstand, der ihn befreit auftreten lässt.

WKU-DM: Ferko vor Titelverteidigung
Den Titel bei den Junioren hatte Fabio Ferko (in seinem Kampf von der La Familia Fight Night X) bereits inne. Der nächste Schritt soll am Samstag und eine Klasse höher folgen. Sein Gegner wird dabei Habib Muhammadi aus Offenburg sein. Im Amateur-Bereich hat der Schützling von Henri Charlet schon einige Erfolge erzielen können und auch für ihn ist der nationale Titel der WKU das erklärte Ziel. Zwei Youngster auf dem Weg nach oben und dann noch um den DM-Titel - braucht es hier mehr an Motivation?

K-1: Jung & Melhorn greifen wieder an
Erst vor drei Wochen begeisterte Deborah Melhron die Zuschauer der Night of the Predators. Mit einem krachenden K.o. (hier das Duell) sicherte sich die Pegnitzerin den EM-Titel. In Jena geht es zwar nicht um einen Titel, dafür wartet mit der Holländerin Yasmin Kreijkes ein nächster Prüfstein. Einmal in Fahrt will sich Melhorn nicht stoppen lassen, denn ihr Kalender in diesem Jahr ist vollgepackt. Auf dem Weg zur Weltmeisterschaft kommt nur ein Sieg in Frage. Doch Kreijkes wird den langen Weg von Almelo mit Sicherheit nicht auf sich nehmen, um mit einer Niederlage im Gepäck wieder die Heimreise anzutreten.

Sein Comeback im Ring wird der Chemnitzer Daniel "Jackson" Jung (in seinem Duell auf der Invictus Fight Night) geben. Dass der Schützling von Ralf Köster im Prinzip alles mit sich bringt, um einen spektakulären Kampf abzuliefern, ist hinlänglich bekannt. Allerdings wäre es mehr als nur fatal, wenn er seinen Gegner Robert Varkentin (in seinem Kampf bei den Fighting Rookies) aus Halle auch nur eine Sekunden unterschätzen würde. Dieser hat bei den Amateuren im nationalen, wie auch internationalen Bereich einige Titel abgeräumt. Auf die Punktrichter verlässt sich Varkentin dabei eher selten und bevorzugt es, seinen Gegnern schon vorher die Lichter auszuknipsen. Ein Duell, welches mehr als nur Spannung verspricht.

Insgesamt 14 Kämpfe stehen am Samstag auf dem Programm - ein Event, dass man sich nicht entgehen lassen sollte!

Jenaer Fight Night
21. Mai 2022
Sparkassen-Arena, Jena

WKU-Deutsche Meisterschaft / K-1
Leon Schrock vs. Edris Sahadati

WKU-Deutsche Meisterschaft / K-1
Fabio Ferko vs. Habib Muhammadi

K-1
Daniel Jung vs. Robert Varketin
Orlando Smeekes vs. Elia Klimbel
Mattias Vogel vs. Sebastian Geisenhainer
Deborah Melhorn vs. Yasmin Kreijkes
Timm Seegert vs. Chris Quaasdorf
Alexander Hopf vs. Max Eckert
Zabiullah Arab vs. Said Sadiqi
Eik Kasper vs. Marcel Sömmerin
Mohammad Amiri vs. Humoon Haidari

Boxen
Christopher Scherneck vs. Thoralf Schöllner
Narek Dawtjan vs. Rocky Stöbe
Teilen
zurück zur News Übersicht