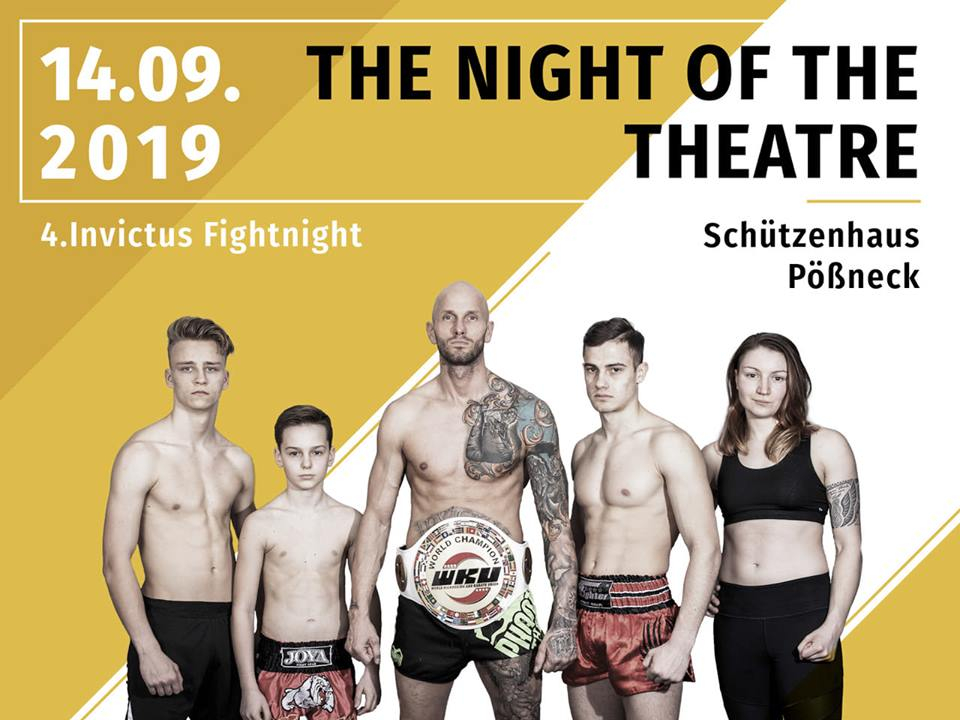 12.11.2019
// INVICTUS FIGHT NIGHT IV: KALLENBACH VOR TITELVERTEIDIGUNG
// Erster Pro-Event am 14. September in Pößneck
Am 14. September geht die Invictus Fight Night in ihre vierte Runde. Bisher hatte das Team um Veranstalter und Hauptkämpfer John Kallenbach lediglich Events für den Nachwuchs in Pößneck auf die Beine gestellt. Am 14. September ändert sich dies und Kallenbach wird zum ersten Mal in seiner Heimatstadt in den Ring steigen.

Kallenbach trifft auf Thai-Star
Im Hauptkampf der Veranstaltung steht, wie könnte es anders sein, "Mr. Invictus" himself John "The Hazard" Kallenbach (bei seinem WM-Titelkampf im vergangenen Jahr) und dieser wird in seiner langen Karriere zum ersten Mal überhaupt in seiner Heimatstadt in den Ring steigen. Und wie der Hüne aus Pößneck gegenüber fight24 im Vorfeld schon verraten hat, ist ihm dies schon ungeheuer wichtig. Ein Spaziergang wird die WM-Titelverteidigung allerdings keineswegs, denn mit Kamon Chetphaophan aus Thailand bekommt er einen äußerst harten Gegner von der WKU vor die Nase gesetzt. 208 Kämpfe mit 141 Siegen - für einen Thailänder zwar nicht ungewöhnlich, zeigen aber, wie stark Chetophaophan einzuschätzen ist. Tatsachen, die Kallenbach zwar bekannt sind, ihn aber nicht wirklich nervös machen dürften. Denn vor vermeintlich höher gehandelten Gegnern hat er sich noch nie gedrückt.

Ferko will Bigos "brechen"
Für Fabio Ferko wird es ebenfalls ein nicht einfacher Abend werden. Der Lokalmatador trifft in einem auf drei Runden angesetzten Superfight auf Marco Bigos (in seinem Kampf bei Ring of Fire) aus Würzburg. Auch wenn es für "The Unbroken", so der Kampfname von Bigos, zuletzt nicht wie gewünscht lief, so hat er gut 4-mal so viele Kämpfe auf dem Buckel wie Ferko (hier in seinem Kampf auf der La Familia Fight Night) und hat somit ein Erfahrungsplus. Der Kallenbach-Schützling wiederum hat sich in den vergangenen Monaten enorm entwickelt und möchte in seiner noch jungen Laufbahn eine weitere Stufe der Karriereleiter erklimmen.

Drei Titelkämpfe mit Lokalmatadoren
Getreu dem Motto "Nicht kleckern, sondern klotzen" wird es bei der Invictus Fight Night gleich noch drei weitere Titelkämpfe geben - und hier stehen vor allem die Damen im Fokus. So wird "Everybody`s Darling" Viviane Kuhlmann ( in ihrem Kampf auf der La Familia Fight Night X) im Kampf um den nationalen Titel der WKU auf Victoria Chernikova (in ihrem Titelkampf auf der O2 Fight Night) aus Köln treffen. Beide Damen weisen im Vorfeld eine ähnliche Bilanz auf. Was diese letztendlich wert ist, das wird man dann am 14. September zu sehen bekommen. Spannend wird es so oder so werden.

Nur zwei Gewichtsklassen tiefer, also im Limit bis 60kg, trifft Lokalmatadorin Kristin Geissler (in ihrem Kampf bei den Fighting Rookies) auf Jennifer Schulz - ebenfalls aus Köln. Die dort ansässigen Rheinfighters sind bekannt dafür, gerade im Damen-Bereich exzellente Arbeit zu leisten. Auch hier haben beide Kämpferinnen eine bisher ähnliche Bilanz vorzuweisen. Keine Frage, das Geissler den Titel nur zu gerne nach Pößneck holen möchte. Allerdings wird Jennifer Schulz (in ihrem Kampf bei Clash of Gladiators 2) da gewaltig etwas dagegen haben.

Im dritten nationalen Titelkampf der WKU kommt es bei den Kadetten in der Gewichtsklasse bis 67kg zum Aufeinandertreffen zwischen Lokalmatador Leon Schrock (in seinem Kampf bei den Fighting Rookies IV) und Raphael Mavrouderakis aus Düsseldorf. Eine nicht uninteressante Paarung der beiden Youngster, die vor ihrem ersten und bedeutenden Titelkampf ihrer noch jungen Laufbahn stehen. Zu Hause und dann auch noch um den DM-Titel - mehr Motivation sollte es für Schrock eigentlich nicht brauchen. Doch Mavrouderakis wird den Weg aus Düsseldorf nicht einfach so auf sich nehmen und seinerseits alles in die Waagschale werfen.

Hoffmann & Potzler führen Superfights an
Tim Hoffmann (in seinem Kampf von der Invictus Fight Night III) wird garantiert gerne wieder zur Invictus Fight Night zurückkehren, lieferte sich der Erfurter im vergangenen Jahr doch einen äußerst spektakulären Kampf, bei dem er in der ersten Runde fast vor dem K.o. stand, dann aber in der zweiten Runde richtig aufdrehte und seinem Gegner dort die Lichter ausknipste. In Pößneck wird er auf Younes Hemamsi aus Bruckmühl treffen und nichts anderes als ein weiterer Sieg für Hoffmann ist fest eingeplant. Ein Vorhaben, welches aber auch Hemamsi hat und man darf hier zu Recht gespannt sein.

Er ist ein Paradiesvogel und macht selten eine große Welle um seine Person: der Pegnitzer Tobias Potzler kommt sicher gerne nach Thüringen zurück, konnte er sich doch dort im vergangenen Jahr den Deutschen Titel der WKU sichern. Diesen muss er nun gegen den Erfurter Franz Streitz zwar nicht verteidigen, aber der 17. Sieg im 22. Kampf soll es dann schon sein. Drei Kämpfe mehr hat Streitz bisher bestritten und mit einem Erfolg möchte er sich für weitere Aufgaben empfehlen.

Einen Wermutstropfen gibt es für alle Kampfsport-Fans dennoch zu vermelden, denn bereits seit Wochen ist die Veranstaltung im Schützenhaus von Pößneck komplett ausverkauft. Da gibt es wahrlich nicht viele Veranstalter die das von sich im Vorfeld behaupten können. Dennoch muss kein Trübsal geblasen werden, denn fight24 ist natürlich vor Ort und jeder, der keine Karte ergattert hat, kann sich die Veranstaltung im Live-Stream anschauen. Zusammen mit Freunden auf einer Leinwand? Wäre doch keine schlechte Idee.

Invictus Fight Night IV: The Night of the Theatre
14. September 2019
Schützenhaus, Pößneck

Einlass: 17.00 Uhr
Beginn: 18.00 Uhr

WKU-Weltmeisterschaft / K-1
John Kallenbach (C) vs. Kamon Chetphaophan

Invictus FN Championship
Fabio Ferko vs. Marco Bigos

WKU-Deutsche Meisterschaft / K-1
Kristin Geissler vs. Jennifer Schulz

WKU-Deutsche Meisterschaft / K-1
Viviane Kuhlmann vs. Victoria Chernikova

WKU-Deutsche Meisterschaft / K-1
Leon Schrock vs. Raphael Mavrouderakis

K-1
Tobias Potzler vs. Franz Streitz
Tim Hoffmann vs. Younes Hemamsi
Hamid Heydari vs. Ahmad Nazari
Jennifer Fehrle vs. Julia Ozga
Frido Müller vs. Finn Gabler

Boxen
Aleksander Yakovlev vs. Deron Boateng
Teilen
zurück zur News Übersicht