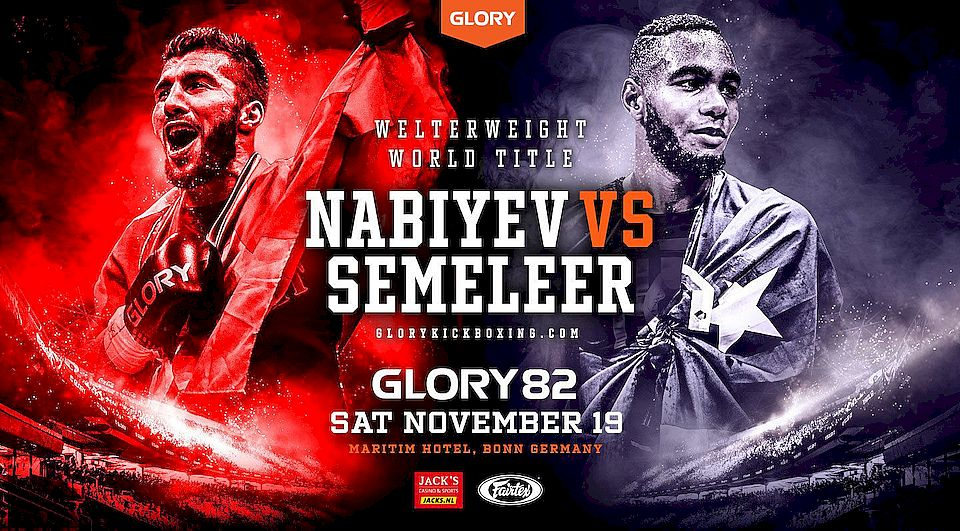 16.11.2022 // Tobias Gerold
// GLORY 82: NABIEV VS. SEMELEER
// Plazibat trifft auf Catinas. Erneute Rückkehr nach Deutschland
Zum Jahresabschluss kehrt Glory zurück nach Deutschland. Gesucht werden ein neuer Titelträger im Weltergewicht und der nächste Herausforderer von Rico Verhoeven. Auch Kämpfer aus Deutschland sind natürlich wieder mit am Start.

Plazibat - über Catinas zu Verhoeven?
Wahrscheinlich ist es nur noch ein Sieg, den Antonio Plazibat benötigt, um sich einen Titelkampf gegen Rico Verhoeven zu sichern - und genau dieser soll am Samstag gegen Raul Catinas aus Rumänien eingefahren werden. Drei krachende K.o.-Erfolge in seinen letzten drei Kämpfen bescheinigen dem Kroaten, wie gefährlich und explosiv er sein kann. Der 28-jährige ist dafür bekannt, dahin zu gehen, wo es weh tun kann, auch wenn er hin und wieder dazu neigt, seine Deckung zu vernachlässigen. Dass dieser Kampf über die Runden gehen wird - kaum vorstellbar. Mehr als eine Außenseiter-Chance wird Catinas wohl kaum haben. Bisher hat er für Glory nur einen Kampf bestritten und den auch noch gegen Nordine Mahieddine nach Punkten abgegeben. Aber wir sind ja im Schwergewicht und da kann bekanntlich eine Aktion den Kampf komplett auf den Kopf stellen.

Neuer Titelträger im Weltergewicht
Das Weltergewicht war in der Vergangenheit eine äußerst interessante Gewichtsklasse bei Glory. Nach dem Abgang von zahlreichen Stars, darunter auch Cedric Doumbè, wird nun in Bonn ein neuer Champion gesucht - und das Duell ist ein richtiger Knaller. Alim Nabiev wird auf Endy Semeleer treffen - ein Kampf, den man eigentlich als Main-Event hätte erwarten dürfen. Nabiev hatte bereits zwei Mal die Chance sich den Titel zu sichern, verlor aber beide Duelle. Zunächst scheiterte er bei Glory54 an Harut Grigorian, ehe es bei Glory66 eine krachende K.o.-Niederlage gegen Cedric Doumbè gab. Was folgte, waren zwei Punktsiege gegen die eher unbekannten Kämpfer wie Troy Jones und Andre Ostrovanu. Großartige Spielchen, für die Nabiev bekannt ist, darf er sich gegen Semeleer allerdings nicht leisten. Der 26-jährige gewann 32 seiner 33 Profi-Kämpfe, davon 17 vorzeitig. Die einzige Niederlage war im Kampf gegen Tayfun Özcan - geschenkt. Den Enfusion-Titel bis 72,5kg hatte er bereits gehalten und nebenbei auch das 8-Mann Torunament in 2017 für sich entschieden. Ob er in Bonn seine Siegesserie weiter ausbauen wird?

Deutsche Kämpfer wieder im Einsatz
Auch Kämpfer aus Deutschland werden natürlich in Bonn wieder im Einsatz sein. Zunächst wird der Dortmunder Brice Kombou (hier im Kampf bei Get in the Ring) sein Debüt für Glory geben und dabei in der Undercard auf Imad Hadar treffen. Der Schützling von Franek Lukanowski konnte zuletzt bei Get in the Ring in Hamburg einen beeindruckenden Sieg feiern. Ob ihm dieses Kunststück auch in Bonn gelingen wird?

Denis Wosik (hier im Kampf bei Fight Vision Europe) hätte nach seinem Auftaktsieg bei Glory81 und seinen bisher sportlichen Erfolgen ein Platz in der Main-Card mehr als verdient gehabt. Warum der Schützling von Kamal el Amrani erneut "nur" in den Prelims ran darf, das muss man nicht verstehen. Sein Gegner wird Mohamed El Mesbahi aus den Niederlangen sein. Ein weiterer Sieg für Wosik ist hier fest eingeplant.

Nachdem Juri de Sousa (in seinem Kampf auf der Zam Zam Fight Night) sich bei Glory81 im Titelkampf gegen Donovan Wisse geschlagen geben musste, wartet in Bonn mit Serkan Ozcaglayan aus der Türkei nun der nächste Kracher. Dieser verlor zuletzt bei Glory Collision 4 klar nach Punkten gegen César Almeida aus Brasilien. Wer von beiden wird nun am Samstag triumphieren und mit einem Erfolg auf die Siegerstraße zurückkehren?

Sein Debüt für Glory wird Chihad Akipa (in seinem Kampf bei FairFC 11) feiern. Das der "Punisher", so sein Kampfname, direkt in der Main-Card antreten darf, war zwar nicht zu erwarten, aber freuen wird er sich in jedem Fall. Allerdings hat er mit Itay Gershon aus Israel einen richtigen Brocken vor der Nase. Dieser belegt aktuell Platz fünf in der Rangliste und wird sich Hoffnungen auf einen Titelkampf gegen Tiyani Beztati machen. Nur mit einem Sieg kann er seine Ansprüche untermauern.

Auch für Joilton Lutterbach wird es der erste Kampf bei Glory werden. Der Kämpfer aus Brasilien, der in Deutschland lebt, hat in der Vergangenheit immer wieder bewiesen, dass man ihn auf der Rechnung haben muss - völlig egal, in welcher Gewichtsklasse er angetreten ist. Sein Gegner wird der Holländer Mark Trijsburg sein. Beide stehen noch nicht in den Top-Ten, aber mit einem Sieg wird man einen wichtigen Schritt dahin unternehmen. Welcher der beiden Kämpfer wird ihn gehen?

Glory 82: Bonn
19. November 2022
Maritim Hotel, Bonn

Glory-Titelakmpf im Weltergewicht
Alim Nabiev vs. Endy Semeleer

Schwergewicht
Jahfarr Wilnis vs. Michal Blawdziewicz
Antonio Plazibat vs. Raul Catinas

Weltergewicht
Joilton Lutterbach vs. Mark Trijsburg

Leichtgewicht
Chihad Akipa vs. Itay Gershon

Mittelgewicht
Juri de Sousa vs. Serkan Ozcglayan

Glory 82: Prelims

Mittelgewicht
Imad Hadar vs. Brice Kombou

Federgewicht
Denis Wosik vs. Mohamed El Mesbahi
Ahamd Chikh Mousa vs. Mohammed El Hammouti
Teilen
zurück zur News Übersicht