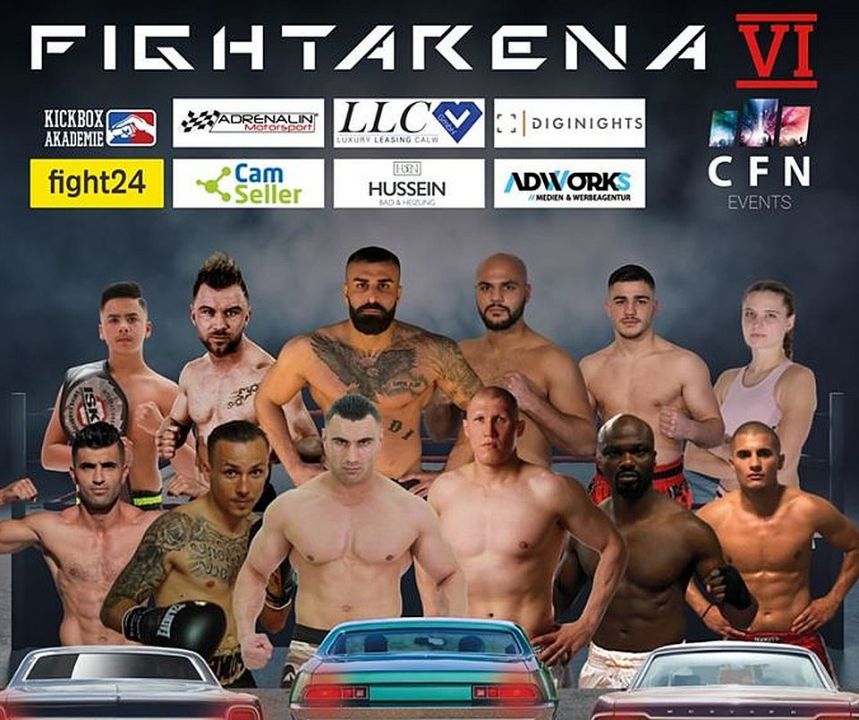 28.07.2020 // Tobias Gerold
// FIGHT ARENA VI: SPOMER & PANZU GREIFEN AN
// Erster Autokino-Event im Kickboxen in Deutschland
Am kommenden Samstag geht die Fight Arena in Heilbronn in die sechste Runde. Nach der Absage der geplanten regulären Ausgabe bedingt durch die Corona-Pandemie wird es einen Event geben, den man in dieser Art bisher noch nicht hatte. Die Not machte Veranstalter Vedran Krco erfinderisch.
Dort, wo sonst das Heilbronner Volksfest, seines Zeichens eines der größten in Baden-Württemberg, stattfindet oder die Menschen sich im Autokino an spannenden Filmen erfreuen, genau an diesem Ort wird am kommenden Samstag die sechste Ausgabe der Fight Arena über die Bühne gehen - mit dabei sind natürlich spannende Fights.
Panzu gibt Comeback
"Back to the Roots" lautet das Motto von Mo Panzu (hier in seinem Kampf von der Bodensee Fight Night). Die "Black Mamba", so sein Kampfname, kehrt wieder zur Kickboxakademie zurück und bestreitet am Samstag seinen ersten Kampf nach einer längeren Auszeit - und das mit dem alten Team im Rücken. Panzu wird dabei auf Dimitri Mehanikov aus Fulda treffen, welcher den Besuchern der Fight Arena-Reihe nicht unbekannt sein dürfte. Allerdings lief es für ihn zuletzt nicht gerade so, wie er es sich vorgestellt hat. Im vergangenen Jahr kassierte er selbst nach einer längeren Pause eine böse Niederlage gegen Beni Osmanoski (hier der Kampf von der letzten Fight Arena) aus der Schweiz. In jedem Fall werden die Zuschauer hier auf ihre Kosten kommen, da beide Akteure für einen offenen Stil stehen. Gut möglich, dass es hier nicht über die volle Distanz von drei Runden à drei Minuten gehen wird.
Spomer will weiße West behalten
Als Lokalmatador ist Slawa Spomer (in seinem Kampf von der Fight Arena IV) natürlich in Heilbronn bestens bekannt. Seine lupenreine Bilanz als Profi-Boxer steht aktuell bei 10 Siegen aus 10 Kämpfen und der elfte Streich soll am kommenden Samstag folgen, so sieht es die Marschroute vor. Sein Gegner wird Krisztian Santa aus Ungarn sein, welcher gleich 3-mal so viele Kämpfe so bestritten hat wie Spomer und dabei so bekannte Namen Leo Levani, Kerman Lejarraga oder Harold Calderon vor den Fäusten hatte. Allerdings verlor er seine letzten drei Kämpfe und dass gerade gegen einen Boxer wie Spomer die Wende gelingen soll, scheint aufgrund der boxerischen Fähigkeiten des Lokalhelden mehr als fraglich. Spomer (als Gast von Toe To Toe) will seinen Fans eine Show bieten und sich den nächsten Sieg holen. Damit sollen für den Schützling von Thomas Holefeld auch die Weichen für eine weitere, erfolgreiche Zukunft gestellt werden. Spomer zeigte sich in der Vorbereitung äußerst motiviert und legte eine ob der Corona-Zwangspause erstaunliche Fitness an den Tag. Na, dann sollte es mit dem elften Sieg in Serie auch wirklich klappen.
Tarageh mit nächstem Streich?
Er zählt zu dem Typ von Kämpfern, bei denen die Trainer graue Haare bekommen. Akam Tarageh (in seinem Titelkampf bei FairFC) hat seine Gegner in der Vergangenheit oft durch seinen unkonventionellen Kampfstil verzweifeln und diese schlecht aussehen lassen. Der Gießener hat sich in den vergangenen Monaten stark gemausert und ist seinem Kampfstil dabei treu geblieben. Diesem wird sich nun auch WKU-Champion Paul Leipi (in seinem Kampf bei Enfusion Darmstadt) stellen müssen. Dieser verlor zwar den nationalen Titelkampf auf der letzten O2 Fight Night, wird sich aber klare Ziele gesetzt haben: zurück auf den Thron - und da wäre ein Sieg gegen Tarageh natürlich die besten Bewerbung für einen erneuten Titelkampf.
Wichtige Info am Rande: zunächst war schon für den 29. August in Schwäbisch Hall die siebte Fight Arena geplant. Da man nun aber doch keine Genehmigung erhalten hat, strebt man diese nun im nahe gelegenen Brackenheim an.
Beginn der Veranstaltung wird um 18.00 Uhr sein. Die Karten sind aufgrund der Hygiene-Auflagen begrenzt und können über www.diginights.com erworben werden.
Fight Arena VI
1.August 2020
Theresienwiese, Heilbronn
Einlass: 16.30 Uhr
Beginn: 18.00 Uhr
K-1
Mo Panzu vs. Dimitri Mehanikov
Akam Tarageh vs. Paul Leipi
Profi-Boxen
Slawa Spomer vs. Krisztian Santa
K-1
Tarik El Farra vs. Tba.
MMA
Admir Hamidovic vs. Marko Duric
K-1
Mustafa Salih vs. Antonio Habek
Profi-Boxen
Stephan Nikitin vs. Pal Olah
K-1
Raua Omer vs. Sasa Pavic
Butuhan Demircan vs. Tarik Fraji
Tamim Noori vs. Imra Berber
Boxen
Mert Celik vs. Mark Kireichuk
K-1
Arbios Murselay vs. Hasan Amin
Azad Atas vs. Lukas Haimayer
Romano Ebert vs. Marcel Minich
Anna Erbers vs. Alice Celle
Jeremy Ebert vs. Tba.
Teilen
zurück zur News Übersicht