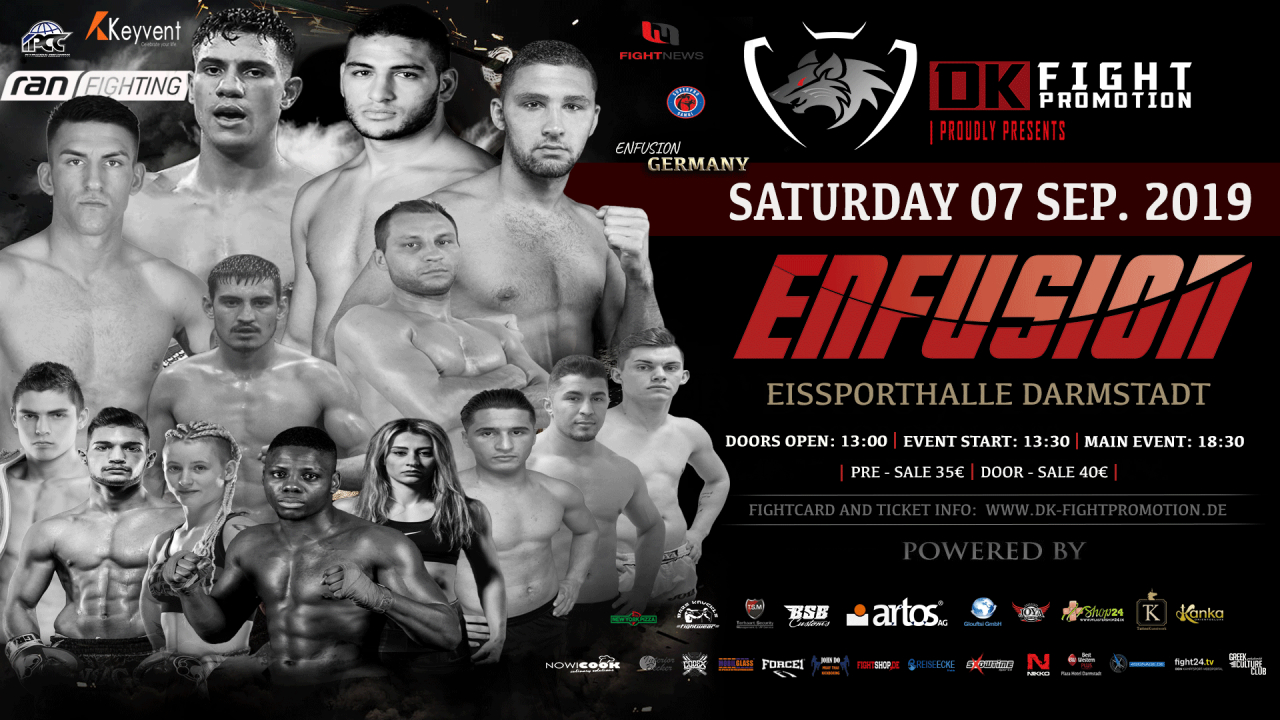 12.11.2019
// ENFUSION 87: EL BAKOURI, BRUHL VESELI & MEHR
// Mega-Programm für den 7. September in Darmstadt
Am 7. September kehrt Promoter Dimitrios Kassapidis mit dem nächsten Enfusion-Event zurück in die Eissporthalle. Die Zuschauer erwartet ein Mammut-Programm mit einer großen Anzahl von interessanten wie auch spannenden Kämpfen.

Enfusion 87: El Bakouri vs. Bouzid
Kein Enfusion-Event von Kassapidis ohne Titelfight - und das wird auch in Darmstadt weiter Bestand haben, wenn sich im Limit bis 85kg Khalid el Bakouri aus Marokko und der Belgier Annis Bouzid gegenüberstehen werden. Der Titel ist aktuell vakant und keiner der beiden wird hier mit einem Champion-Bonus in den Kampf gehen. Die Karten werden neu gemischt und der Ausgang ist komplett offen. Auch wenn Bouzid aktuell auf Platz 5 der Enfusion-Rangliste steht und somit drei Plätze besser als el Bakouri ist, so mag dies nur eine Momentaufnahme sein. Beide Kämpfer begegnen sich hier auf Augenhöhe und die Zuschauer dürfen sich auf einen packenden Kampf freuen.

Freuen darf man sich aus nationaler Sicht auf den Kampf von K-1 Max-und Glory-Veteran Andrej Bruhl, der auf Stefanos Baglatsakos aus Griechenland treffen wird. Dort gilt dieser als ein äußerst vielversprechendes Talent. In Fachkreisen wird nur in den höchsten Tönen von ihm gesprochen und das möchte er in Darmstadt auch unter Beweis stellen. Doch Bruhl wird sich davon kaum beeindrucken lassen, stand er doch in seiner Laufbahn schon gegen einige bekannte Namen im Ring und stellte diese vor so einige Probleme.

Äußerst vielversprechend wird auch die Paarung zwischen Juri de Sousa (in seinem Kampf von der Zam Zam Fight Night) aus Mannheim und dem Freiburger ISKA-Champion Filip Topic (hier bei seinem Kampf auf der Freiburger Fight Night VII) werden. De Sousa wird motiviert genug sein, konnte er doch in der jüngsten Vergangenheit einen Sieg gegen Sergej Braun einfahren. Und Topic? Der Schützling von Nils Loton zeigte sich zuletzt u.a. auf der Freiburger Fight Night bestens in Form. Ein Sieg in Darmstadt ist also fest eingeplant. Doch de Sousa wird hier garantiert etwas dagegen haben.

Enfusion Talents: Helshani trifft auf Lier
Der Begriff "Talents" trifft bei der folgenden Paarung eigentlich fast nicht mehr zu, wenn sich "The Albanian Warrior" Besmir Helshani (in seinem Viertelfinale von Welcome To The East) und Jaroslav Lier (in seinem Kampf auf der Hohenloher Kampfgala) gegenüberstehen werden. Beide Kämpfer haben in der Vergangenheit oft genug unter Beweis gestellt, dass man mit ihnen zu rechnen hat. Gerade Helshani zeigte im diesjährigen "All or Nothing" Tournament von Welcome to the East eine starke Leistung, als er nach einem Niederschlag wieder bärenstark zurück kam. Auch wenn es nicht zum Sieg reichte, zeigte der Erfurter einen ungeheuren Willen und den hat auch sein Gegner Jaroslav Lier. Die Talentschmiede von Frank Schneider wächst weiter und Lier ist definitiv einer von ihnen.

Der Aschaffenburger Panya Mee Sue (in seinem Kampf auf der One Team Fight Night) steht vor einer äußerst schwierigen Aufgabe. So muss dieser in Darmstadt gegen den Holländer Kevin Henneken in den Ring steigen und dieser gilt wegen seines unkonventionellen Kampfstils als harte Nuss. Diese gilt es für Sue natürlich zu knacken, um sich mit einem Sieg für höhere Aufgaben zu empfehlen. Ob es ihm auch gelingen wird?

Enfusion Extra Fight: Breuer vs. Sortino
Mit der Paarung zwischen Teresa Sortino (bei ihrem Kampf auf der One Man Series 1) und Christina Breuer erwartet die Zuschauer ein sehr packender Kampf. Sortino zeigte sich bestens erholt von ihrer denkbar knappen Punktniederlage gegen Deniz Batinli. Die Mannheimerin hat ihre Zeichen wieder voll auf Angriff gestellt und will in Darmstadt mit einem Sieg untermauern, weshalb ihr Kampfname "Time Bomb" ist. Breuer hingegen konnte mit einem krachenden K.o. Erfolg über Patricia Rodriguez beim Enfusion Cage Event einen bleibenden Eindruck hinterlassen und hat erst kürzlich einen Vertrag über 3 Jahre bei DK-Fightpromotion abgeschlossen. Mehr Motivation sollte es für die Kölnerin eigentlich nicht brauchen. Zudem handelt es sich hier nicht einfach "nur" um einen Extra Fight der beiden Damen, es wird der IPCC-Europatitel noch mit auf dem Spiel stehen.

Bereits um 13.30 Uhr wird an diesem Tag der Gong zum ersten Kampf der Veranstaltung ertönen und es zum ersten Kampf in der Undercard kommen. Erneut ist es hier Promoter Kassapidis gelungen, in jedem Programmpunkt interessante Duelle einzubauen, wie ein Blick auf das komplette Programm beweist. Tickets für diese Veranstaltung können über Keyvent.com geordert werden. Die Undercard wird es LIVE auf Fight24.TV zu sehen geben, Enfusion Talents dann bei Enfusion selbst und die Main-Card gibt es bei ranfighting.

Enfusion 87
7. September 2019
Eissporthalle, Darmstadt

Einlass: 13.00 Uhr
Beginn : 13.30 Uhr

Enfusion 87

Enfusion-World Title / - 85kg
Khalid El Bakouri vs. Anis Bouzid

Regilio van den Ent vs. Skodran Vesseli
Andrej Bruhl vs. Stefanos Baglatsakos
Juri de Sousa vs. Filip Topic
Hara Dimitroula vs. Cindy Silvestre
Philipp Häfeli vs. Karim Allouss
Seif Harnafi vs. Artur Scherer

IPCC-Europameisterschaft
Christina Breuer vs. Teresa Sortino

Sergej Mudrak vs. Kai Obergföll
Saimir Kasemi vs Wladislav Neubert

Enfusion Talents

Jeton Bajra vs. Okan Celikdal
Jaroslav Lier vs. Besmir Helshani
Kevin Henneken vs. Panya Mee Sue
Besnik Bedjeti vs. Tanilcan Toktas
Sandro Zulcic vs. Eren Kara
Aylina Engel vs. Lucy Verhoef
Kerem Can Mezineler vs. Kaschmir Mobaritz

Enfusion Undercard

Tyrone Pfeifer vs. Chris Obiango
Labinot Povataj vs. Jeffrey Nihoff
Tarkan Ademov vs. Zlfaquar Salehi
Mark Scherf vs. Dennis Kalkan
Tuma Zeitune vs. Omid Mohmmadi
Raphael Steinbacher vs. Evgenij Erhardt
Yassine Belfdil vs. Sozdar Mussa
Christopher Hopp vs. Merlin Woods
Hamza el Malla vs. Tarik Elfarra
David Kalashyan vs. tba
Nick Beschnar vs. Diego Fernandez
Wilem Verhaegh vs. Haik Avetisyan
Kaan Bilgili vs. Berkan Konugkus
Julia Ott vs. Khadija el Garmoui
Rahim Delic vs. Dogu-Kaan Babayigit
Alessia Amato vs. Simone Aslan
Aleks Papazov vs. Bilal Sawari
Teilen
zurück zur News Übersicht