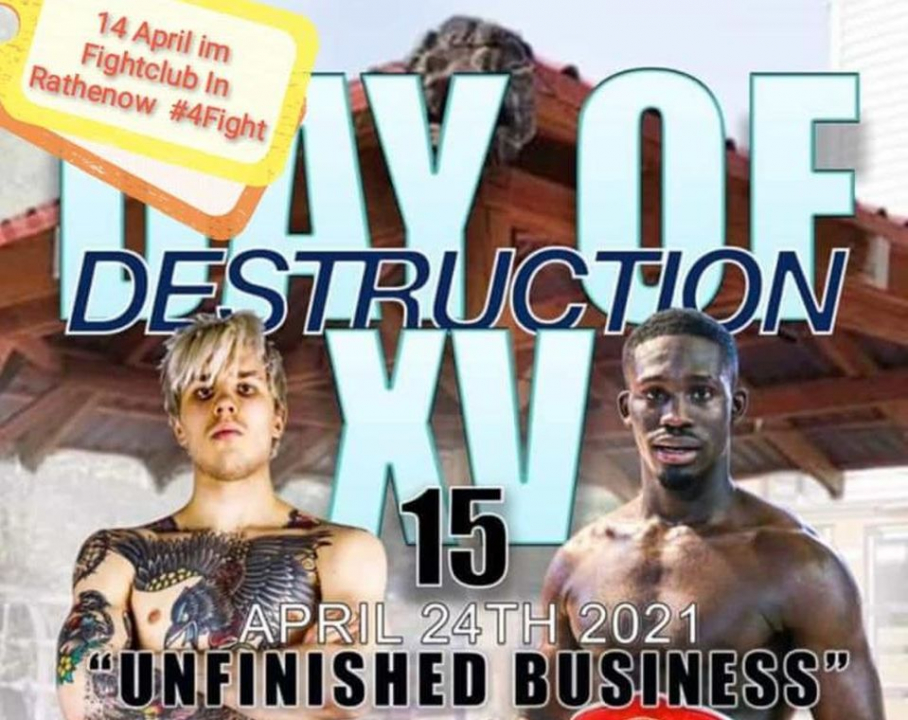 15.04.2021 // Tobias Gerold
// DAY OF DESTRUCTION 15 FEAT. PUNCH IT-NEWCOMER
// Atti um WKN-WM + wer holt sich das Ticket für Thailand?
Geht nicht? Gibt es nicht! Und das wird sich auch Peter Weiss aus dem Fightclub in Rathenow gedacht haben und daher in Zusammenarbeit mit Bernard Caplin (The Champions Club) und Ralf Stege (Day of Destruction) diesen Open-Air Event am 24. April auf die Beine gestellt. Das Programm dabei kann sich sehen lassen.

WKN-WM: Atti vor nächstem WM Titel
Vor seinem dritten WM-Titel steht Hamburgs Shooting-Star Gerardo "The Blade" Atti (in seinem Kampf bei The Chosen), welcher sich an diesem Tag den WM-Titel nach Version der WKN holen möchte. In den vergangenen Monaten trotzte "Coco" der Corona-Pandemie und konnte bei den wenigen Kämpfen, die überhaupt möglich waren, seine exzellente Form unter Beweis stellen und dabei so bekannte Namen wie Jakob Styben oder Kim Jensen besiegen. Den WM-Titel nach Version des IMC, sowie den EM-Titel des WBC hat Atti bereits inne. Daher ist klar: nichts anderes als der zweite WM-Titel soll es werden. Im Weg steht im dabei noch der mehrfache Titelträger aus Finnland, Jussi Santalahti, welcher 2015 auch beim Royal World Cup die Bronze-Medaille einheimsen konnte. Zum Verlieren wird Santalahti sicherlich nicht nach Rathenow reisen.

Punch It-Newcomer-Challenge
Vier Kämpfer, ein Ring und nur ein Sieger - keine Frage, dass 4-Mann-Tournament wird gehörig Spannung versprechen. Nicht nur, dass es um den Sieg geht, vielmehr - und das wird auch die größte Motivation für die Kämpfer sein - geht es um die Tatsache, dass der Sieger ein zweiwöchiges Trainingscamp im Punch It-Gym auf Koh Samui gewinnt, an dessen Ende der Sieger noch einen Muay Thai-Kampf bestreiten wird. Neben Deutschland wird es eine solche Ausscheidung noch in Australien, Österreich, Polen und der Slowakei geben. Hier werden sich im ersten Halbfinale Lokalmatador Sebastian Gas und Arman Korkunc aus Bremen gegenüberstehen, während sich im zweiten Halbfinale der Braunschweiger Hedi Tej und Nickolas Srdic aus Nürnberg um den Platz im Finale begegnen werden. Sollte einer der beiden Sieger aus den Halbfinals im Endkampf nicht antreten können, dann erhält der Sieger der Paarung zwischen Farid Salehi (Nienburg) und Julius Gutsch (Bremen) die Möglichkeit dazu.

Den einzigen Kampf nach K-1 Regeln werden an diesem Tag die Damen bestreiten, wo sich Pia Peters (X-Ite Gym) und Tiziana Olmo (Fight Gym) gegenüberstehen werden. Dieser Kampf wird mit Sicherheit nicht weniger spannend werden. Schon alleine aus dem Grund, weil hier zwei unterschiedliche Kampfstile aufeinandertreffen. Auf der einen Seite Pia Peters (in ihrem Kampf auf der VIP Gala), die eine exzellente Technikerin ist und das auch mehrfach unter Beweis stellen konnte. Der WKN-EM-Titel, den Peters hält, ist nur ein Beispiel dafür, wie stark die Trittauerin einzuschätzen ist. Ein Spaziergang wird dieser Kampf aber keineswegs, denn Olmo (in ihrem Kampf auf der Charity Open Air) ist dafür bekannt, keiner Konfrontation aus dem Weg zu gehen und egal, wer vor ihr steht: die Nürnbergerin hat immer den Sieg im Visier.

Leider wird man für dieses Spektakel vergeblich nach Karten suchen, denn Zuschauer sind wie auch bei anderen Kampfsport-Events leider nicht zugelassen.

Day of Destruction 15
feat. Punch It Newcomer Challenge
24. April 2021
Fightclub, Rathenow

WKN-Weltmeisterschaft / Muay Thai
Gerardo Atti vs. Jussi Santalahti

WFCA-Title Eliminator / Muay Thai
Daniel Eckert vs. Peter Jermolow

Punch It Newcomer Challenge / Halbfinals
Hedi Tej vs. Nickolas Srdic
Sebastian Gas vs. Arman Korkunc

Punch It Newcomer Challenge / Reserve-Kampf
Farid Salehi vs. Julius Gutsch

Punch It Newcomer Challenge / Finale
Tej/Srdic vs. Gas/Korkunc

K-1
Pia Peters vs. Tiziana Olmo
Teilen
zurück zur News Übersicht